i have no friends to display.
A Wolf in Sheep's Clothing.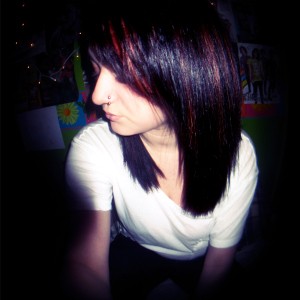 Top Friends

About Me
So I guess you want to know about me. I'm Rachel, and I like nicknames. 14, forever alone. I'm taken by an amazing guy, Joseph Henry.♥ I'm a sophomore at Sterling. I write on my hands. I like cats. I speak some French. I'm a vegetarian. I don't think "highly" of myself. I'm a hypochondriac. I'm mostly Croatian, and I have a couple famous relatives. I drink too much coffee. I don't have any self-esteem. I have panic disorder & depression. Music/Photography/Poetry are my life. I'm a shoulder to cry on, And I'm not very good with words.
| | |
| --- | --- |
| Name | Rachel Rose |
| Gender | Female |
| Location | Atlantic City, NJ |
| Ethnicity | White / Caucasian |
| Interested in | Men |
| Status | In a relationship |
| | |
| --- | --- |
| Interests | sushi, new friends, picture comments, late night phone calls, weird food, clothes, photography & music, writing, awesome lyrics, bands, twitter, tumblr, myspace, $$$, school, triangles, writing on myself, speaking in other languages, alex pardee, reading, hipster fashion, tofu, bows, vintage, new beginnings, arizona iced tea, my mom's cooking, conversations in french, weird people, hair dye, concerts, bamfs, my friends, piercings & tattoos, beanies, heavy jewelry, hearts, swearing, straight hair, fall out boy, never having to say goodbye, almond shaped eyes, guys, glasses, i love you, hugs, eyeliner, coffee, being outspoken, parties, spin the bottle, legit, oicwydjt, 1111, the universe, stars, nostalgia, my diary, vitamin water, vegetarian food, makeup, ugly dolls, collages, wise sayings, body modification, buddhist philosophy, my mommy, etc |
| Music | fall out boy, the smiths, sonic youth, she & him, panic at the disco, blink 182, all time low |
| Movies | the breakfast club, sex drive, revenge of the nerds, lord of the rings, star wars, mean girls |
| TV | lost, grey's anatomy, la ink, the buried life, flapjack, scrubs |
| Books | the uglies series, crank |
| Quotes | "But she knows she has a curse on her; a curse she cannot win. For if someone gets too close to her, the pins stick farther in." -Tim Burton, Voodoo Girl "But I thought this wouldn't hurt a lot. I guess not." -MGMT "Love never wanted me." - XO "Your remorse hasn't fallen on deaf ears, rather ones that just don't care." -My Heart is the Worst Kind of Weapon "Sitting out dances on the wall, trying to forget everything that isn't you." -7 Minutes in Heaven |
Contact Me
| | |
| --- | --- |
| IM | RaeXO1337 |
Statistics
Web Skills
HTML, CSS, JavaScript, Photoshop, Flash, Paint Shop Pro, Windows